Berlengas Islands are a set of archipelago islands located 10km off the west coast of Peniche, Portugal. Berlenga Grande is the largest of the islands in the Berlengas Archipelago, which is a protected area frequently visited by travelers!
The only way to get to the islands is by taking a boat. We took a boat from Peniche and had four hours to explore both sides of Berlenga Island and the iconic fort.
If you like nature and exploring old fortresses then I recommend taking a day trip to Berlenga Grande Island from Peniche!
PackedForPortugal.com contains affiliate links to various products, which means I may earn a small commission for qualifying purchases at no extra cost to you. Thank you for supporting my website. Read more about my Affiliate Disclosure.
Berlenga Island: Things to Know
Berlengas Natural Reserve is a protected area created in 1981
You must take a boat to reach the island
The fort offers a hotel and restaurant
You can go to the top of the lighthouse
Book in advance (AT LEAST one day prior)
Limited to 550 visitors per day
How to Get to Peniche From Lisbon
Peniche is located 103km north of Lisbon. You can easily travel here by bus. Check Rede Expressos bus departures from the Sete Rios station in Lisbon.
How to Get to Berlenga Island From Peniche
The only way to reach Berlenga Islands is by taking a boat. The boats depart from the Peniche Marina, which is where you will find the offices of several boat tour companies if you want to book in person.
We checked with each company to compare availability, prices, and departure times. We booked our tickets one day prior. Roundtrip prices cost €18 for a 30-minute fast boat.
Some tour companies also offer activities like scuba diving, cave tours, and kayaking. It really just depends on what you want to do.
If this is something you don't want to miss out on, I definitely recommend to book in advance. This tour continues to increase in popularity and the island has a daily capacity limit in place.
Exploring Berlenga Grande Island
After arriving at Berlenga Grande, you will have four hours to explore the island on your own. There are two main sides to the island, Berlenga on the west side and Ilha Velha on the east side.
I recommend spending two hours walking the paved path to Fortaleza de São João Baptista and exploring the Berlenga side, an hour walking the unpaved path around Ilha Velha and using your last hour to relax at the beach or grab some food or a coffee.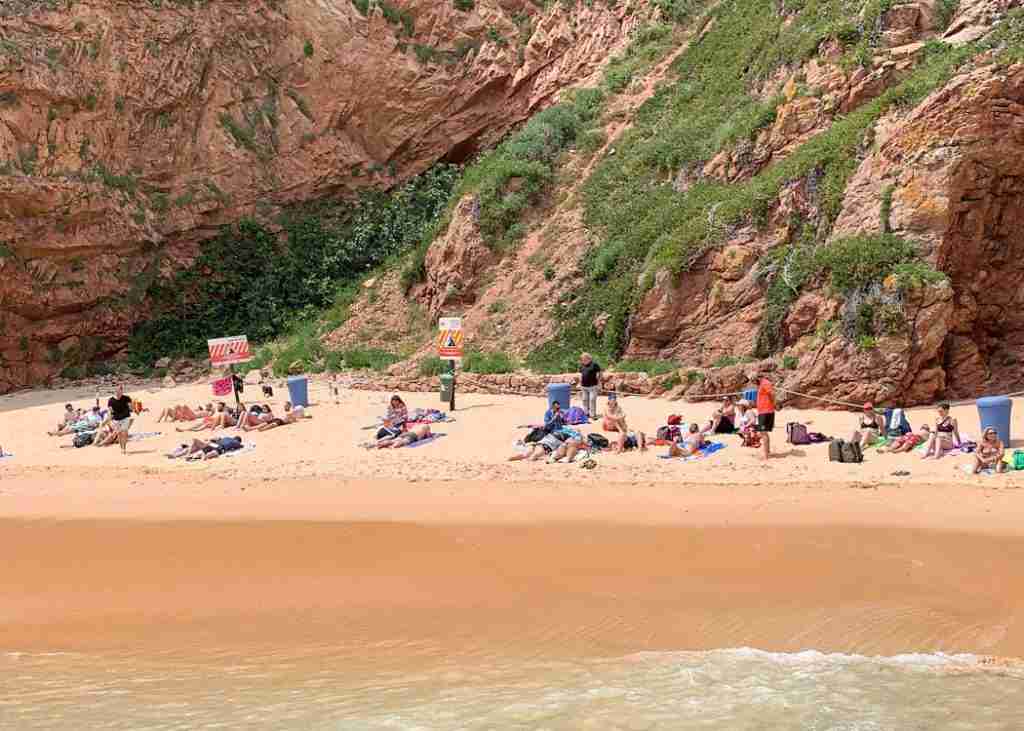 Once you leave the village, you will follow up the pathed path to the left towards the fort. Along the way you will begin to see views of the lighthouse.
Once you get above the village, the trail will begin to flatten out and you will have some amazing views of the area!
Fort of São João Baptista
A set of 307 steps will lead you down to the Berlenga fort, known as Fort of S. João Baptista. The fort was built to protect the Peniche coastline and was completed in 1656.
When I visited the fort in 2019, it was free to enter and explore. Now, I think it costs €1. Within the fort, you can find a small restaurant with a simple menu. There's also a hotel, which makes a unique place to stay!
The fort is connected to the island by a long stone bridge. It's such a picturesque area and the most interesting part of the entire island.
Berlenga Island Lighthouse
On your way back to the other side of the island, you can stop by the Lighthouse Duque de Bragança, which was built in 1841 by Gaudêncio Fontana. The lighthouse reaches approximately 112 meters above sea level!
You can enter the lighthouse and go to the top of it for some great views of the island.
Protected Wildlife
Berlega Islands is a nature reserve that protects a diverse habitat. On the island, you can see Berlenga Wall Lizard, Ocellated Lizard, Band-Rumped Storm-Petrel, Common Murre, Peregrine Falcons, Cory's Shearwater, European Shags and more seabirds! It's also possible to see whales and dolphins in around the islands.
Accommodations and Food
Most people that visit the island on a day trip, but if you want to stay overnight you can either tent camp or book a night in the Fortress of São João Baptista. For food, check out the restaurant in the fort or the one in the main village.
São João Baptista Fortress Hotel (+351) 262 750 244
Camping Berlenga (+351) 262 789 571,

[email protected]

Pavilhão Mar e Sol (+351) 262 750 331
---
Answering Your Questions
Is Peniche worth visiting?
If you want to surf or explore Berlengas Islands then you should add Peniche to your Portugal itinerary.
Can you stay on Berlengas?
You can stay on Berlengas by camping or inside of the Fortress of São João Baptista, which offers hotel accommodations.
---
Check out my Portugal travel videos!
---
Pin To Read Later
Do you have any questions about visiting Berlenga Island in Peniche Portugal? Let me know in the comments.