From authentic Portuguese dishes to all-you-can-eat sushi and modern cafes, there's no shortage of incredible restaurants in Lagos, Portugal.
With the abundance of fresh seafood from the Atlantic Ocean seen on many local menus and influence from the many cultures represented in town, Lagos has really become an amazing place for foodies!
You'll definitely want to put these 10 restaurants on the top of your list of things to do in Lagos.
PackedForPortugal.com contains affiliate links to various products, which means I may earn a small commission for qualifying purchases at no extra cost to you. Thank you for supporting my website. Read more about my Affiliate Disclosure.
10 Best Places to Eat in Lagos Portugal
1. Casinha do Petisco
You can't leave Portugal without trying the local Portuguese cuisine! The best Portuguese restaurant in Lagos is Casinha do Petisco. It's so popular that you need to make reservations in advance unless you don't mind waiting outside for an hour. The seafood here is amazing and the house prawns are covered in a delicious sauce that doesn't compare to anywhere else. I also recommend trying cataplana. If you don't like seafood, there are some tasty meat options.
View Website | +351 282 084 285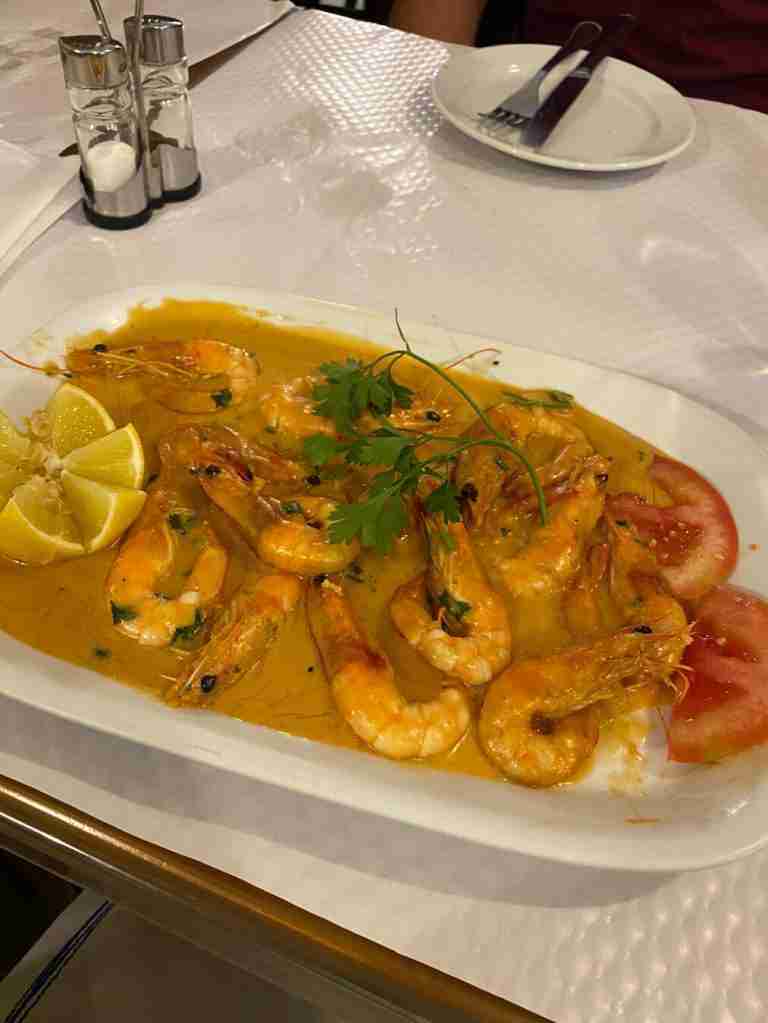 2. My Sushi
It really doesn't get better than an all-you-can-eat sushi lunch for ONLY €10! My Sushi is located in Lagos' historic center. The sushi here is sooooo good and you don't want to miss out on this experience. The menu has 88 items and you can add 6 items per person every time you order. Just write it down on the notebook and hand it to the waiter. Some of my favorite items to order are the sashimi and nigiri. I also love the fried prawns. Orders will usually come out together on a beautifully-decorated sushi platter.
View Facebook | +351 282 798 221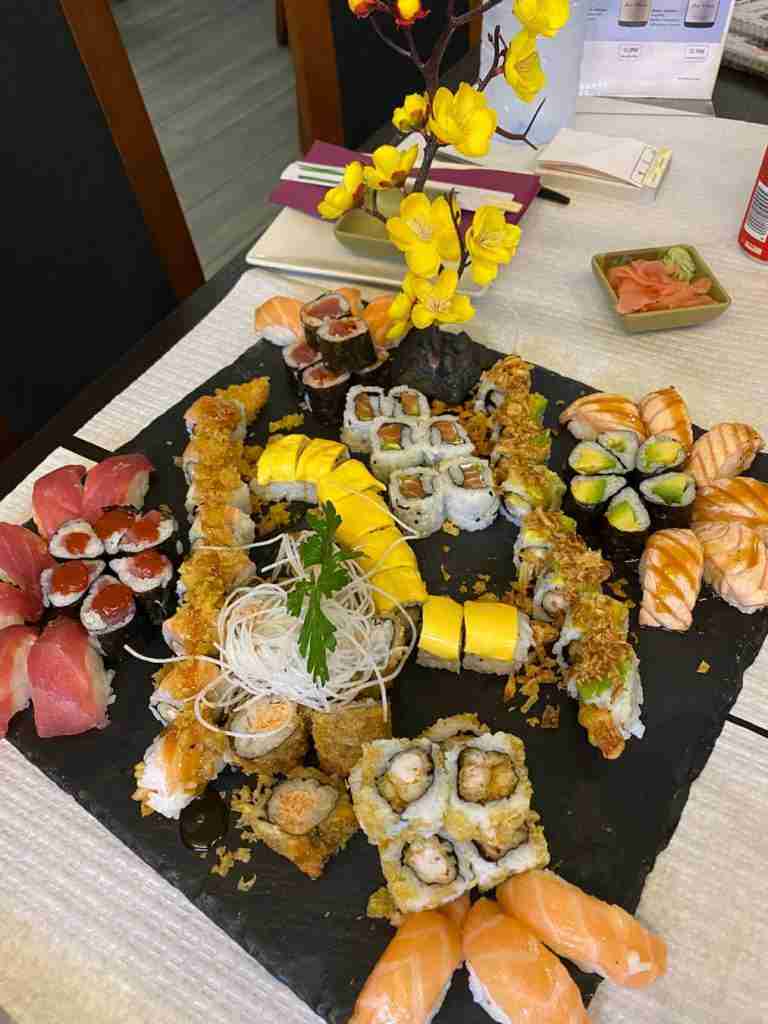 3. Black and White
Black and White is an Australian style restaurant known for its specialty coffee and brunch options. This is probably the busiest cafes in the heart of Lagos. Since you can't make reservations, chances are you will have to wait outside for a bit until there's a table available. I will say that it's worth the wait.. the coffee and food here are amazing, which is why it's on this list of best places to eat in Lagos Portugal. They have all sorts of options from pancakes, avocado toast, and smoothies. One of my favorite things to order from Black and White is the breakfast burrito.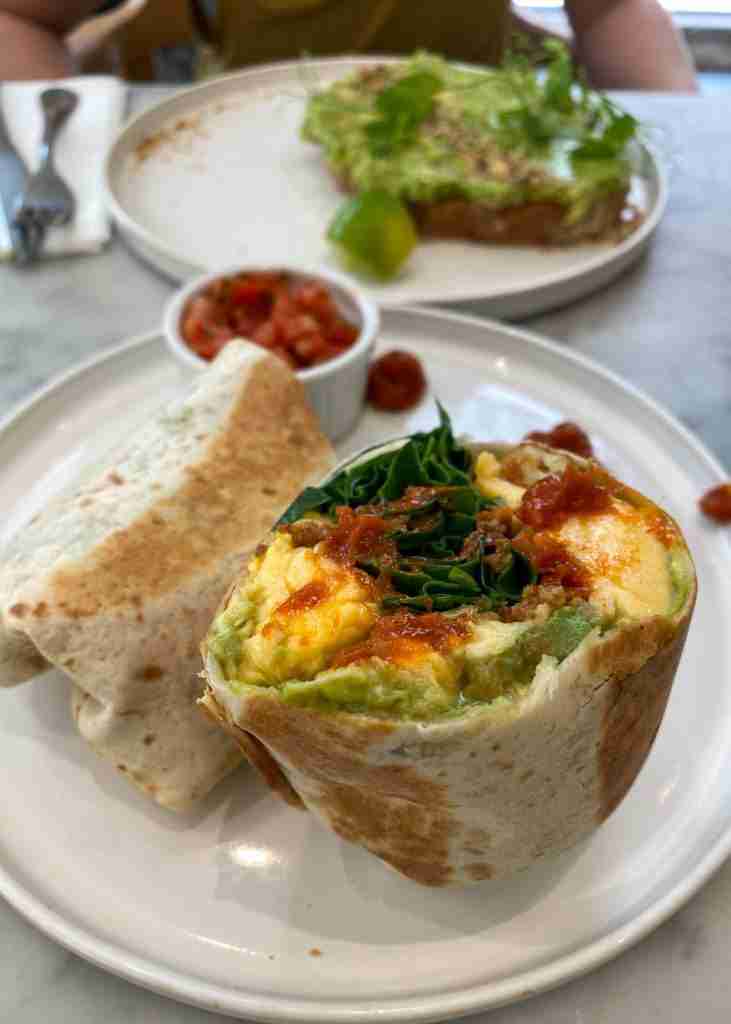 4. Padaria Central
Padaria Central is a traditional Portuguese bakery just around the corner from Black and White. I almost always go here to get a pastel de nata, which I basically eat on the daily! It's a Portuguese egg custard tart pastry and it's absolutely delicious, so you must try it while in Portugal. They're usually served warm, which make it even better. Besides the pastels, Padaria Central has so many traditional pastries to choose from. Take a seat at the counter and enjoy your pastry with a little coffee or espresso.
Visit Website | +351 282 763 994
5. Pom Pom Bagels
One of the newest restaurants in Lagos is Pom Pom Bagels, which was actually started during the pandemic! They're known for their homemade bagels and as an American, I can say that their bagels are damn good! On the menu, you'll find plenty of sandwich options and if you don't want one that's already listed on the menu you can actually build your own. My order: The breakfast one (fried eggs and bacon) on an everything bagel. Pom Pom Bagels shares the shop with Illicit Burgers, and you can find them open during the evenings.
View Instagram | +351 925 041 134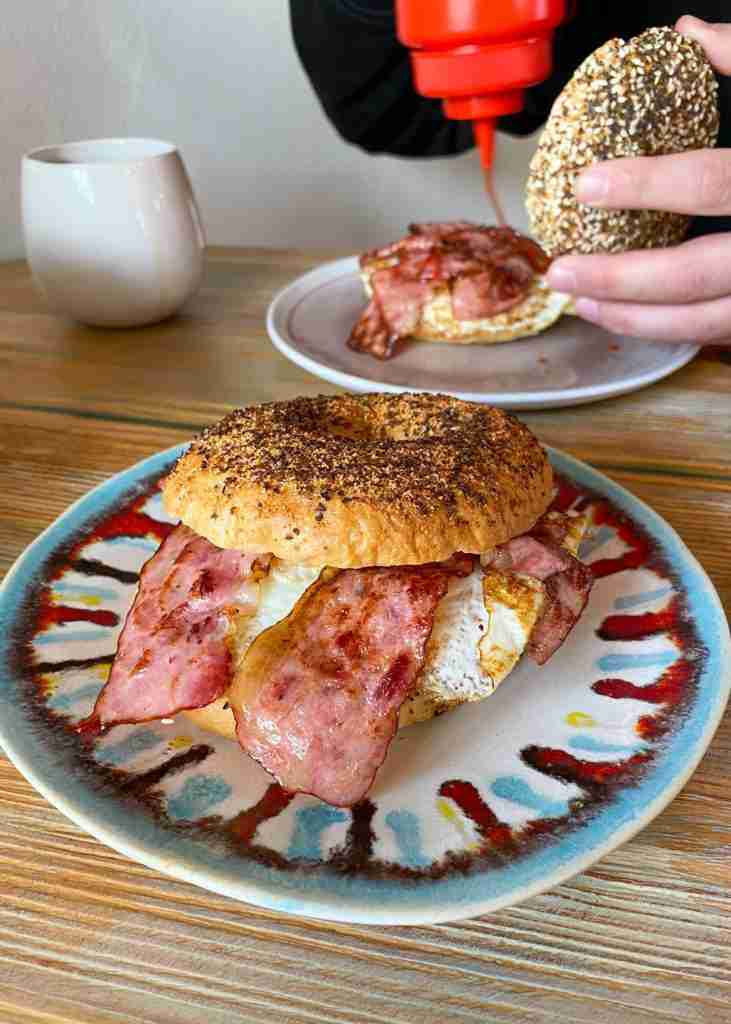 6. Gelícia
You know I can't write a list without letting you know where to get ice cream! Gelícia is an artisan Italian gelato shop with a sweet selection of flavors. They even carry a few vegan options. One of my favorite gelato flavors is pistachio, but this time I ordered a cone with lemon and strawberry sorbet. Since the ice cream is made fresh, you'll always find a new flavor to try. A medium is two scoops and costs 3.80€.
View Instagram | +351 918 505 963
7. PIE Lagos
PIE Lagos is a new bar-restaurant that you can find in the center of Lagos known for their custom-made pies and extensive beer selection. They also offer plenty of starters and snack items, which make it a great place to eat whether you want to grab a quick bite or enjoy a full meal. I tried their creamy chicken pie with a puff pastry topping and it was so tasty… I ate the entire thing. I also really liked their fried clams, which came with a garlic mayo sauce. Their beer garden is a great spot to hang out and enjoy one of their many craft beers or a jug of sangria!
View Instagram | +351 964 780 708
8. Empanadas & Co
Listed as a bistro, Empanadas & Co has a menu full of empanadas, which is a type of baked or fried turnover consisting of pastry and filling. You can find fish, meat, vegetarian, and dessert options on the menu. I definitely recommend trying their chimichurri sauce with your savory empanada. If you're thirsty, pair your empanada with a fresh juice. They have indoor or outdoor seating, but you can also order them for take away… beach snack, anyone?
View Instagram | +351 928 058 917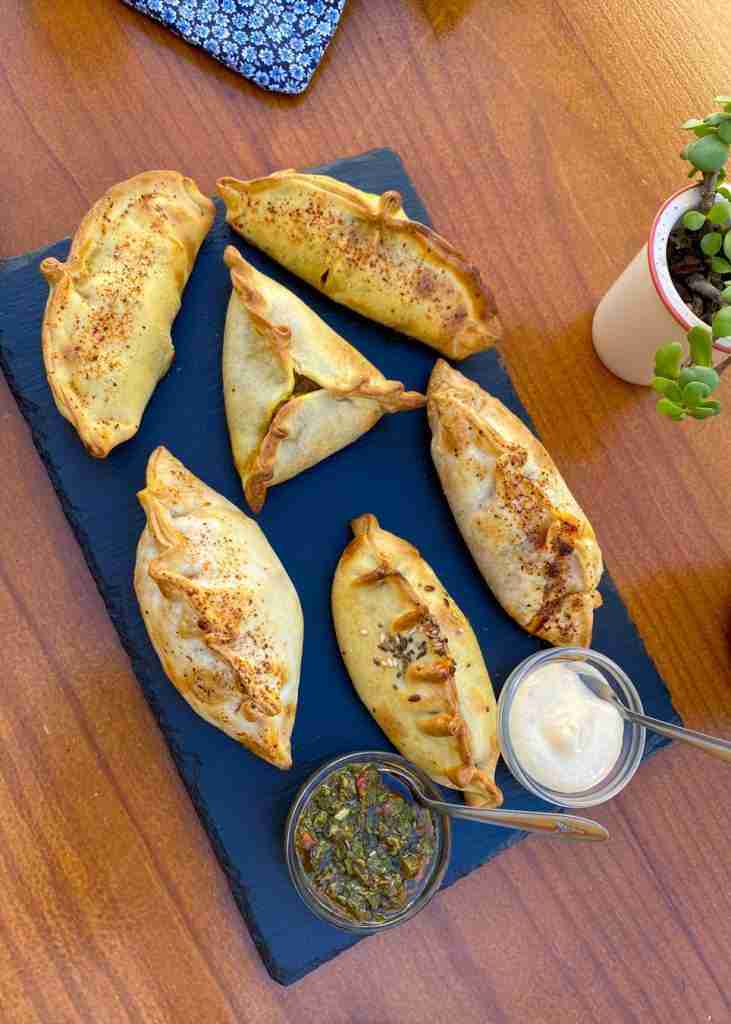 9. Nah Nah Bah
When I lived and worked in Praia da Luz, we would always take guests out to Nah Nah Bah. Nah Nah Bah is a burger joint that was actually named to have one of the World's Best Burgers. This tropical island interior restaurant uses local and sustainable organic ingredients and their buns are made out of sweet potato. If you end up in a burger joint without a hunger for burgers.. try the fish tacos. They are awesome and come with Nah Nah Chips, which are hand cut fries layered with a house sauce. The one thing that I really don't care for here is the music that's always blaring.
Visit Website | +351 966237171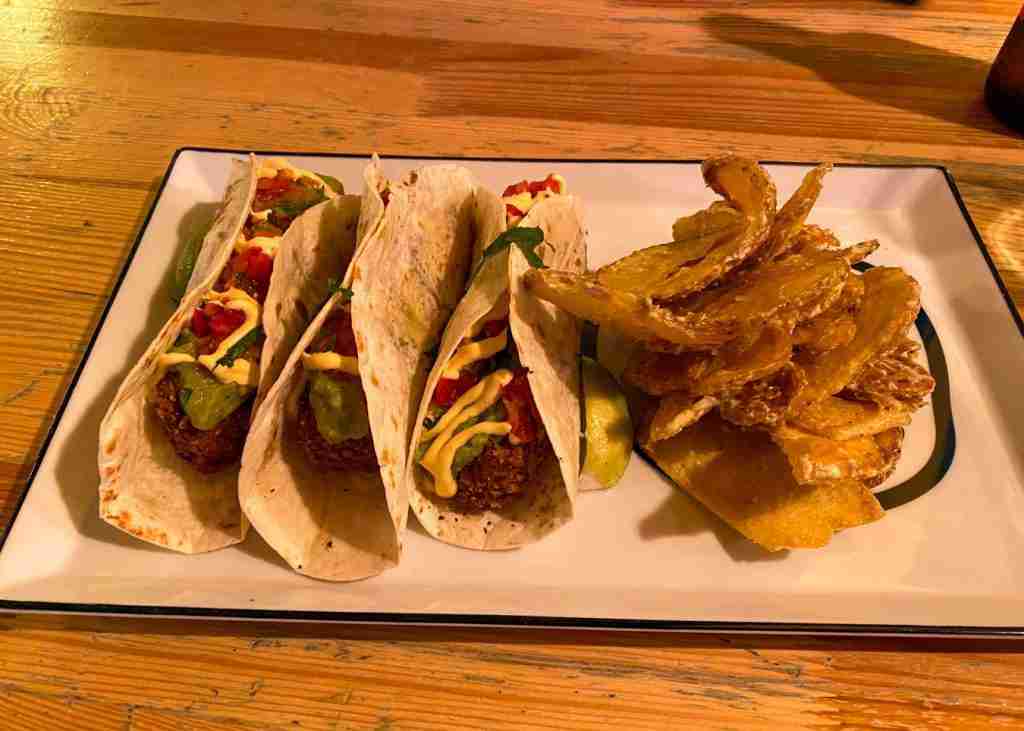 10. Gorilla
Gorilla is another new restaurant in town serving up Asian fusion cuisine with bowls of ramen as a highlight. I tried the Tonkotsu ramen and it was full of flavor! The homemade ramen broth was incredible and the pork was just as good. I did try the mushroom ramen and unfortunately the mushrooms were a bit chewy, so I can't recommend it. The menu offers a variety of vegan-friendly options. In comparison to nearby restaurants, Gorilla is a bit more expensive.
View Website | +351 915 956 357
Besides these 10 restaurants to eat at in Lagos, the city is full of so many more menus to explore, especially as new restaurants are always popping up. I definitely recommend walking around town to see what you stumble upon.
---
Check out my Portugal travel videos!
---
Pin To Read Later
Do you have a restaurant that should be added to my list of best places to eat in Lagos Portugal? Let me know in the comments.