Lagos is one of the most popular cities to visit in the Algarve, especially for backpackers and surfers. The town is surrounded by an old wall and it's full of history. Being a seaside town, there are plenty of activities to choose from and lots of delicious seafood to enjoy.
Lagos is only an hour drive from the Faro airport, so it really is worth a visit if you're traveling around the Algarve.
Whether you want to learn how to surf or sunbathe on a beautiful beach, here are the best things to do in Lagos, Portugal.
PackedForPortugal.com contains affiliate links to various products, which means I may earn a small commission for qualifying purchases at no extra cost to you. Thank you for supporting my website. Read more about my Affiliate Disclosure.
Top Things to do in Lagos Portugal
1. Sunrise SUP
A sunrise SUP tour is one of my favorite things to do in Lagos! It's a great way to explore the Lagos coastline, secret beaches, and grottoes. By choosing the sunrise option, you get on the water while everyone is still asleep and the water is much calmer. It's so peaceful and so much fun. I loved paddling underneath some of the arches that became accessible during low tide. This is a great activity for any adventurous spirit, even if it's your first time on a stand up paddle board. SUP tours are usually two hours long and prices start at €40.
2. Praia dos Estudantes
Lagos is surrounded by picturesque praias, or beaches. A great place to take photos is at Praia dos Estudantes, which can be found next to Praia da Batata. The beach has an old bridge that connects two of the cliffs. To find the bridge, you have to walk through the manmade tunnel to the other cove. I love coming here during sunset because it's absolutely beautiful. Since this beach is so close to Lagos old town, it can get very busy. I recommend heading to another beach if you're looking to chill for a while.
3. Explore Lagos Old Town
The historic center of Lagos is also known as the Old Town. It's made up of cobbled streets, seafood restaurants, fun shops, and Baroque churches, all surrounded by 16th-century walls. As you make your way towards the waterfront, you will come across many historical highlights, including Forte da Ponta da Bandeira, São Gonçalo de Lagos, Castelo de Lagos, and Igreja de Santo António.
4. Ponta da Piedade
Ponta da Piedade is the classic Portugal postcard. This area that's been carved by the sea and the wind over many years is made up of incredible limestone cliffs, rock arches, grottos, pillars, and hidden beaches nestled in stunning coves. You can choose to explore the are by renting a kayak or SUP to see the coastline or you can hike along the cliffs. You can walk to Ponta da Piedade from Lagos in about 20 minutes or it's quick drive and parking is free.
5. See the Street Art
As you walk around Lagos, you will notice a lot of beautiful murals. Street art can be found around every corner and it's really fun to walk around the city to see what you can find. The art is a result of a local artist residency program that brings a lot of international artists to Lagos. "Don't take the bait," was created by an Italian artist Diego Della Posta, aka Mister Thoms. It can be found on R. Dom Nuno de Mascarenhas.
6. Eat Portuguese Food
Portuguese cuisine is famous for its delicious seafood, and there's no shortage of places to eat Portuguese food in Lagos. The best Portuguese restaurant in town is Casinha do Petisco. It's run by a family and there is basically one Portuguese man that does all of the cooking. I went here for my birthday and I tried the house prawns and they were incredible.. the sauce is everything. I also recommend trying cataplana. If you don't like seafood, there are some delicious meat options. I recommend making a reservation in advance. It's cash only, but there are nearby ATMs if you need to use one.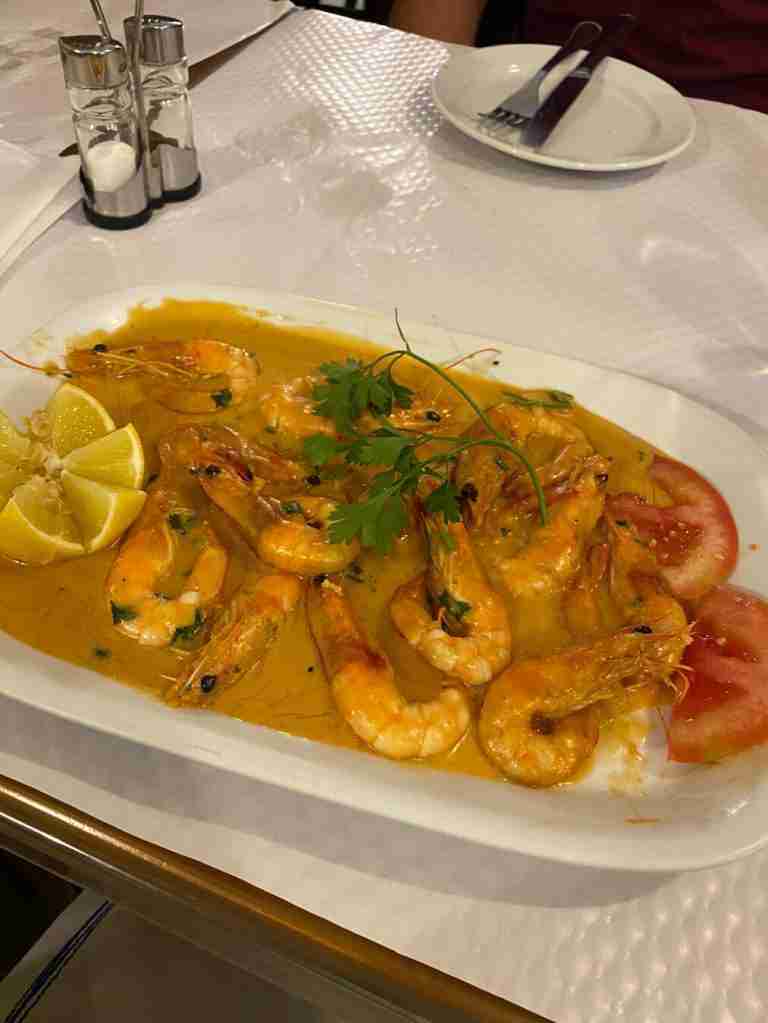 7. Visit Local Shops
From clothing to gifts to gelato, visiting the local shops must be added to your list of things to do in Lagos Portugal. If you're looking for vintage clothing, stop by The Urban Jungle. If you're looking a pair of handmade leather sandals, stop by Atelier. If you do want some ice cream, there are many options. I recently stopped by Crema di Gelato and tried a cone with lemon sorbet topped with merengue pieces and it actually tasted like a lemon merengue pie! Yum! My friends also like GeIícia.
8. Go Surfing
The Algarve coast is amazing for surfing. Whether you're a pro or just a beginner, don't miss out on the surfing in Lagos. In Lagos, the main surf beaches near town include Meie Praia and Porto de Mós. If you want to go on your own, you can easily rent a board and wetsuit in town from any of the surf shops like Jah Shaka. But, if you want to really learn proper technique there are plenty of surf schools in the area. To check local surf conditions, use Magic Seaweed.
9. Try a Pastel de Nata
I eat a pastel de nata on the daily! It's a Portuguese egg custard tart pastry and it's absolutely delicious, so you must try it while in Portugal. In Lagos, I really love the pastels from Padaria Central. They're usually served warm, which make it even better. You can enjoy your pastry with a little coffee or espresso. Another nearby place to to get pastels is Pastelaria Gombá. They're slightly cheaper here and they taste just as good!
10. Enjoy the Night Life
Lagos has a huge night life to enjoy. A typical night in Lagos usually starts by getting drinks with dinner. After dinner, you may head to a bar with music like Mellow Loco, Tiger Bar, or Black Cat (just to name a few). If you're looking for a big night out, you'll probably end up dancing the night away until 6am at Grand Café.
---
Answering Your Questions
Is Lagos worth visiting in Portugal?
If you love seaside towns, beaches, Portuguese food, and nightlife then you must visit Lagos!
What is Lagos Portugal known for?
Lagos is known as one of the walled towns in Portugal. It's full of history and offers plenty choices of activities to try.
How many days do you need in Lagos Portugal?
Lagos is small and you could see a lot of it in one day, but if you want to explore all of the hidden gems, I recommend at least 3 days.
Is Lagos Portugal Lively?
Portugal is a very lively town, especially during the summer nights. Many people are walking around the town enjoying the many local restaurants and bars.
---
Check out my Portugal travel videos!
---
Pin To Read Later
Do you have any questions on top things to do in Lagos Portugal? Let me know in the comments.