Lisbon is the capital of Portugal and it ranks as one of the best cities to visit in Europe! This coastal city, also known as the "City of Seven Hills," lies at the mouth of the Tejo River.
It's a warm and vibrant city full of beautiful architecture, historic landmarks, colorful buildings, steep streets, fun nightlife, and cool neighborhoods.
Whether you want to enjoy sunny days wandering around and admiring all of the colorful azulejos (ceramic tiles) or discover some delicious Portuguese cuisine, here are the best things to do in Lisbon, Portugal.
PackedForPortugal.com contains affiliate links to various products, which means I may earn a small commission for qualifying purchases at no extra cost to you. Thank you for supporting my website. Read more about my Affiliate Disclosure.
Lisbon Travel Tips
If it is your first-time visiting Lisbon and you want to see as many spots as possible, then purchase the Lisbon Card. The card gives you free access to the public transportation system for 24, 48, or 72 hours. It also gives you free access to many top attractions in the city and is even valid on trains going to Sintra and Cascais.
Did you know? Admission is free at National Museums and Monuments on Sundays and holidays for residents of Portugal.
Best Things to do in Lisbon, Portugal
1. Walking Tour
One of the first things I like to do when visiting a new city like Lisbon is to go on a walking tour. These tours are a helpful way to get a feel for the city and get first-hand travel tips and food recommendations from a local!
You can join one of Lisbon's Free Walking Tours (pay what you want) that cover many of the city's top attractions, including Bairro Alto, Rossio Square, and Praça de Comércio.
2. Belém Tower
Belém Tower or Torre de Belém, is a 16th-century fortification that was built to protect Portugal's largest city. Today, this iconic building is listed as one of Lisbon's UNESCO World Heritage Sites.
The panoramic views from here are amazing with the Targus River, Cristo Rei Statue, and the 25 de Abril Bridge (sister to the Golden Gate Bridge in San Francisco) acting as a backdrop. If you want to go inside and climb the narrow stairs to the top of the tower, grab your Belém Tower entry ticket here (expect long queues during peak season).
3. Jerónimos Monastery
The Jerónimos Monastery or Mosteiro dos Jerónimos can be found in the Belém area of Lisbon. The monastery was built in the early 1500s and it's one of the most decorated churches in Portugal.
The monastery was classified as a UNESCO World Heritage Site in 1983 and you can marvel at the monument's 16th-century Manueline architectural style with an Jerónimos Monastery entry ticket.
4. LX Factory
If you have a few hours in Lisbon, head to Alcântara to check out the LX Factory! This creative hub is fueled by food, fashion, art, architecture, and music. There are lots of places to grab a bite to eat, drink or find some cool, handmade gifts to take with you.
Livraria Ler Devagar is a really cool bookstore within the complex to check out. I really enjoyed the personal puppet show on the second floor.
5. Miradouro de Sao Pedro de Alcantara
Lisbon is a city of hills and those hills provide some amazing opportunities for panoramic viewpoints, which are known as miradouros. While you're walking around the city, you'll come across many different viewpoints like Miradouro de Sao Pedro de Alcantara (pictured below).
Want to check out some of the best viewpoints of the city? Head to Miradouro da Graça, Miradouro das Portas do Sol, and Miradouro de Nossa Senhora do Monte.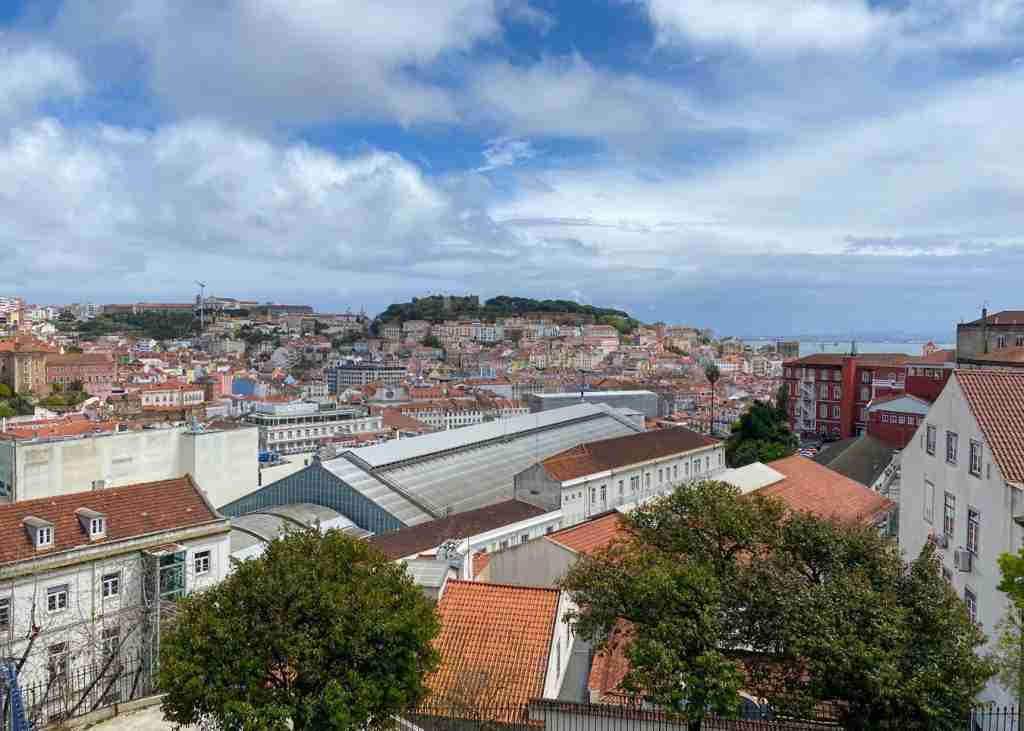 6. Lisbon Oceanarium
If you're looking for the best family-friendly things to do in Lisbon, the Oceanário de Lisboa tops the list. Just a short walk from Oriente Station, the Lisbon Oceanarium is the second-largest aquarium in Europe!
While you're strolling around the four marine habitats in this 5 million liter seawater aquarium, keep an eye out for sharks, sea otters, jellyfish, penguins, clownfish and so many other incredible marine animals.
7. Pastéis de Belém
Whenever I'm in Portugal, it's rare for me to go a day without eating a pastel de nata, a delicious Portuguese egg custard tart pastry. Pastéis de Belém is the most famous café in Lisbon known to sell the only original ancient recipe that originated in the Mosteiro dos Jerónimos, which is more than 180 years old!
If you're visiting the Belém area, I definitely recommend stopping by the café to try their Pastéis de Belém for yourself. If you happen to miss it, you can usually find fresh ones in the Lisbon Airport Duty Free.
8. Cristo Rei
Cristo Rei is a Catholic monument and shrine dedicated to the Sacred Heart of Jesus Christ in Almada that overlooks Lisbon. It was inspired by the Christ the Redeemer statue in Rio de Janeiro, Brazil.
The best to visit the Cristo Rei statue to to take the ferry from Cais do Sodre to Cacilhas and then take the bus from Cacilhas to Cristo Rei. It takes about an hour to travel here.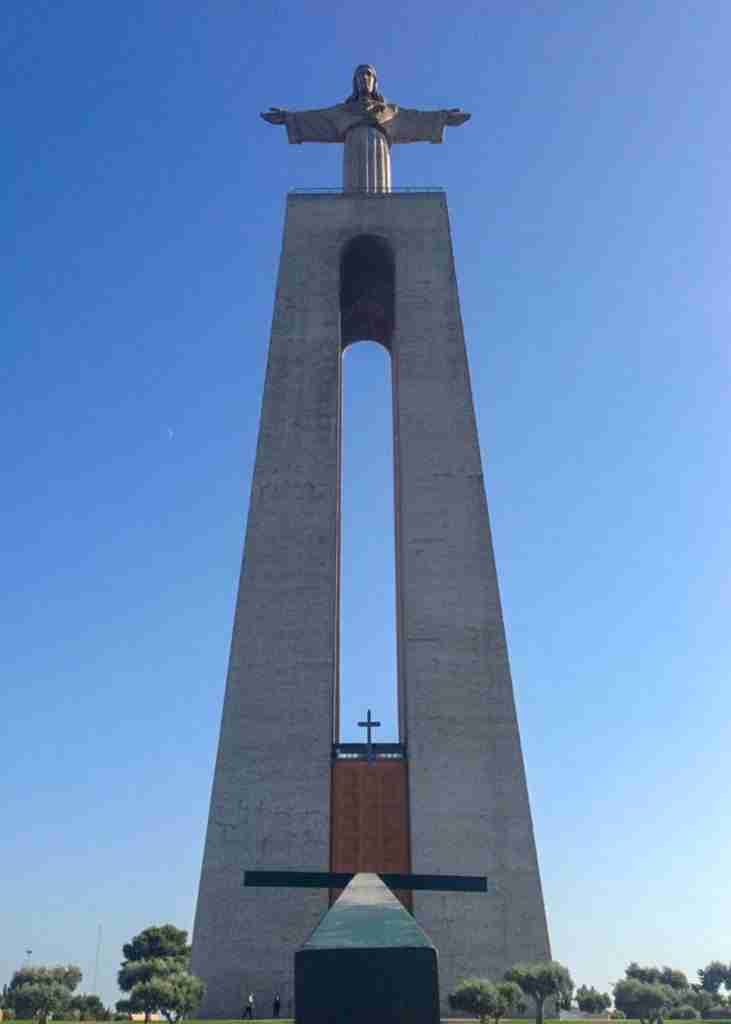 9. Drink Vino Verde
Have you heard of green wine? Vinho Verde is a unique Portuguese wine that comes from a small region in Northern Portugal. These wines are low in alcohol and high in acidity, and perfect for those summer days.
Vinho Verde is great paired with grilled fish and other seafood. It's offered in restaurants so you can try a glass with your meal, or just head to the shop to pick up a whole bottle.
10. Landeau Chocolate
After hearing that there was a contender for the best chocolate cake in the world right here in Lisbon, I had to try it! Landeau Chocolate is a cafe with multiple locations in Lisbon. It's known for its chocolate cake and after tasting it myself, I can tell you it's really good!
I loved the moistness of the cake, its soft texture, and its decadent flavor. I washed it all down with an espresso. Highly recommend a visit for anyone with a sweet tooth.
11. Time Out Market
If you need to eat more than a slice of cake, head to Time Out Market, Lisbon's popular food hall located in the Mercado da Ribeira in Cais do Sodré. The food hall has 24 restaurants, 8 bars, and a dozen more shops.
Here you'll find some of the best food made by some of the best chefs in Portugal, including Michelin-starred chefs Alexandre Silva and Henrique Sá Pessoa. The market also has fresh meat, fish, fruit and flower vendors.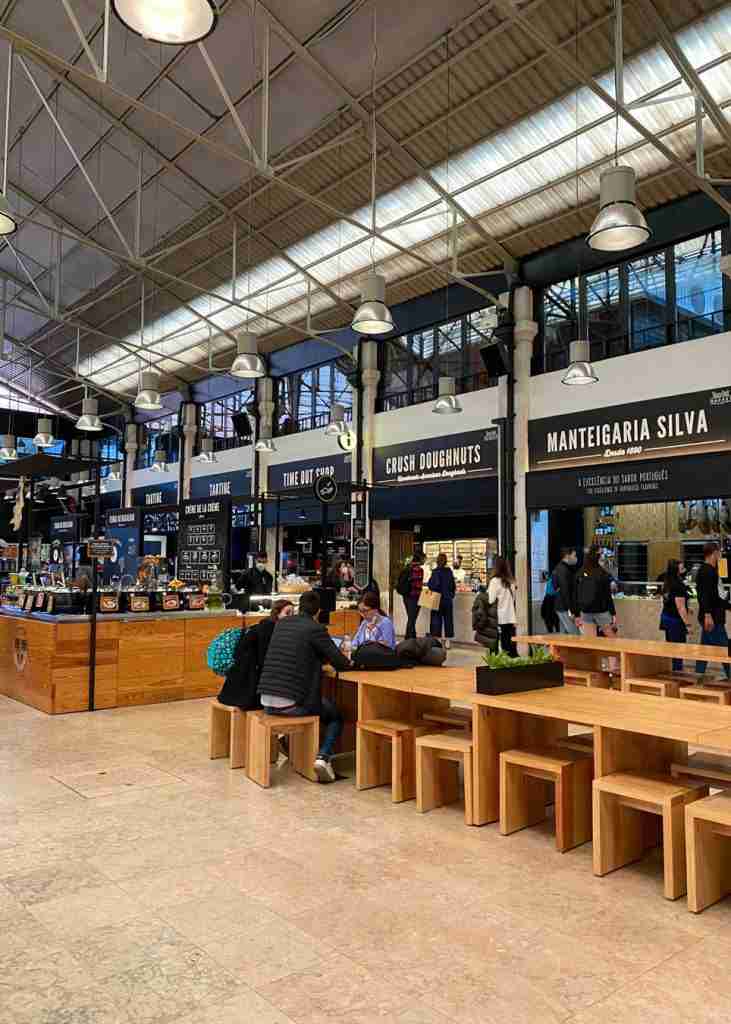 12. Pink Street
Found around the corner from Time Out Market in Cais do Sodre, one of Lisbon's most popular neighborhoods, Pink Street or Rua Nova do Carvalho, is a popular tourist destination. This street is painted in pink and is known for its nightlife. There are many restaurants, bars, and clubs, including Pensão Amor and Music Box.
If you want to get a good photo, it's best to arrive earlier in the day, but keep in mind that the street can get really dirty sometimes which makes it less photogenic.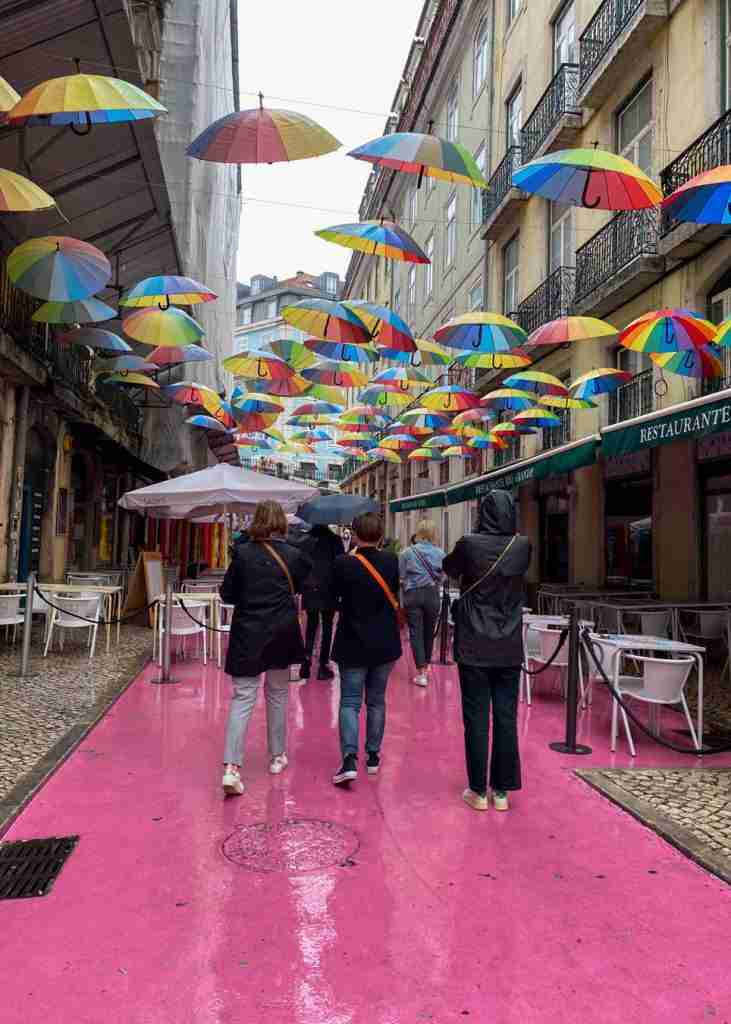 13. Eduardo VII Park
If you want a little escape from the city, visit Lisbon's central park, Eduardo VII Park, or Parque Eduardo VII. This beautiful public park covers 26 hectares and has lovely views of Lisbon from the top.
It's a great area if you want to go for a walk or see some exotic plant species found in the park's greenhouse. You can easily reach the park by taking the Metro blue line to the Parque station.
14. Ride the Tram
One of the best ways to get around Lisbon's hilly and narrow streets is to ride the historic yellow tram. The most famous tram route in Lisbon is number 28. You'll get the best look at the city on this route as you ride through the Alfama, Estrela, Graca and Baixa districts.
Since this is the most popular route in the city, it's usually overcrowded. Ride the tram early or late in the day. The tram starts at Martim Moniz and ends at Campo Ourique. Use a Lisbon Card to avoid the hassle of paying the driver directly.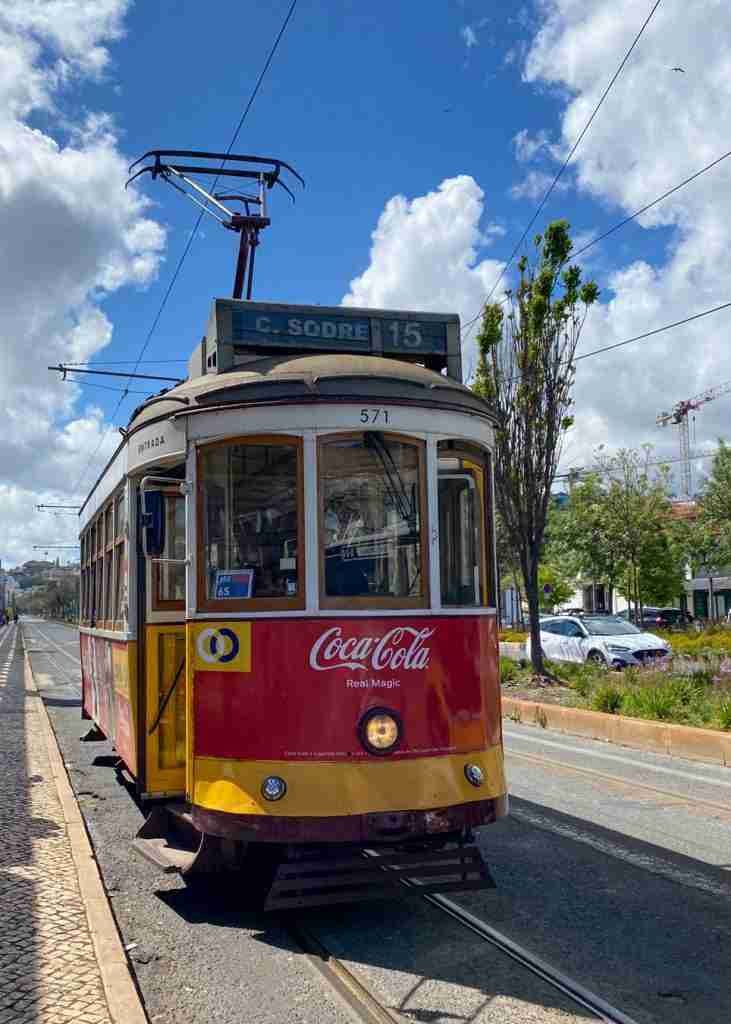 15. Eat at Michelin-Star Restaurant Solar dos Nunes
Solar dos Nunes is a small and cozy Michelin-starred restaurant found in the Belém area of Lisbon, just around the corner from the LX Factory. The restaurant opened its doors in 1988 and continues to offer the finest Alentejo dishes and flavors.
After hearing about the restaurant from a friend, we made a reservation and enjoyed a delicious meal. I've read some mixed reviews online, but we thought it was great and priced well for a Michelin Star Restaurant. Keep in mind, that they serve lots of starters that will be added to your bill.
---
Answering Your Lisbon Questions
What is Lisbon famous for?
Lisbon is famous for Its incredible architecture, historic landmarks, colorful buildings, steep streets, fun nightlife, and cool neighborhoods.
How many days should I spend in Lisbon?
You should spend at least 3 days in Lisbon if it's your first time.
Is 3 days enough to see Lisbon?
Three days is enough time to see Lisbon's most famous attractions and taste the cuisine.
---
Check out my Portugal travel videos!
---
Pin To Read Later
Do you have any questions about the best things to do in Lisbon Portugal? Let me know in the comments.