Have you ever heard of a Chamber of Sound? Well if you haven't, there is one hidden within the walls of the Sagres Fortress and you can visit it!
The Chamber of Sound, or "Voz do Mar", is an installation found in Sagres. Visiting here creates a unique experience to hear the rush of the waves from the ocean through a natural hole in the ground as the tide comes in.
In this post, I'm going to share everything you need to know to visit the Chamber of Sound hidden in Sagres, Portugal.
PackedForPortugal.com contains affiliate links to various products, which means I may earn a small commission for qualifying purchases at no extra cost to you. Thank you for supporting my website. Read more about my Affiliate Disclosure.
Visit Chamber of Sound "Voz do Mar" in Sagres
How to Get to Fortaleza de Sagres
Sagres Fortress is situated on the Sagres Point peninsula just south of Sagres' town center. You can easily drive here from Sagres or Lagos and parking here is free. You can also get to Sagres from Lagos by taking a bus from the Lagos bus station.
Fortaleza de Sagres Entrance
The Chamber of Sound is located within the walls of the Sagres Fortress, a 15th-century fort with a lighthouse, a church, and a 100-foot-wide wind compass. After paying the € 4 entrance fee, you can follow the walking path along the cliffs to further explore the fortress.
What is a Chamber of Sound?
A Chamber of Sound is a room designed and built to enhance sound. In this case, Voz do Mar is a circular labyrinth with five cement brick walls, including the innermost wall, where you can listen to the sea from 100m above ground.
Voz do Mar: Installation Design
Voz do Mar was designed as a temporary installation by world-famous architect Pancho Guedes in 2010 and built as a permanent installation by architect Pedro Ressano Garcia in 2015.
Voz do Mar: A Sensory Experience
When you see the whitewashed, earth-toned structure from a distance sitting on top of its dramatic and barren landscape, it's hard to determine what the structure actually is.
Since the entrance faces south, you can't tell that you can go inside it until you walk in that direction.
When you enter the Chamber of Sound, you will walk along a 2.5-meter-wide natural path around multiple rings in what feels like a circular maze.
There are a few ways to get to the center, and Architect Pancho Guedes said, "The labyrinth is like life itself, one can be lost for some time, but always end up getting there".
You'll notice the walls gradually rise as you get closer to the center of the chamber. Eventually, you will find yourself inside of the inner circle.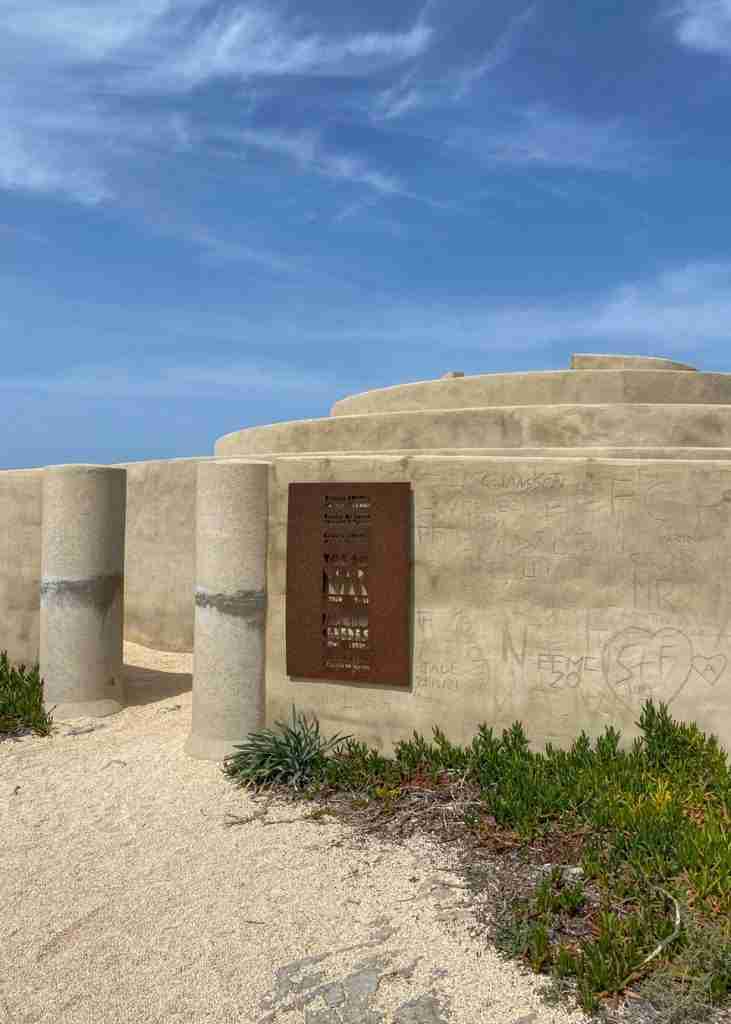 Upon reaching the innermost circle, you'll notice a .5 meter hole in the ground covered by a metal grate. The hole is a natural geological fault that connects with the ocean located over 100 meters underground!
Within the inner circle, you'll find a bench that invites you to take a moment to sit down and enjoy an incredible sensory experience – to feel the waves and hear what is perceived as the "call of the sea".
The Chamber of Sound is activated by the tide. As the tide comes in, the pressure from the sea pushes the air up through the hole in the ground.
I thought this listening experience was so cool and if you want to see a video I took, check out my Instagram Reel.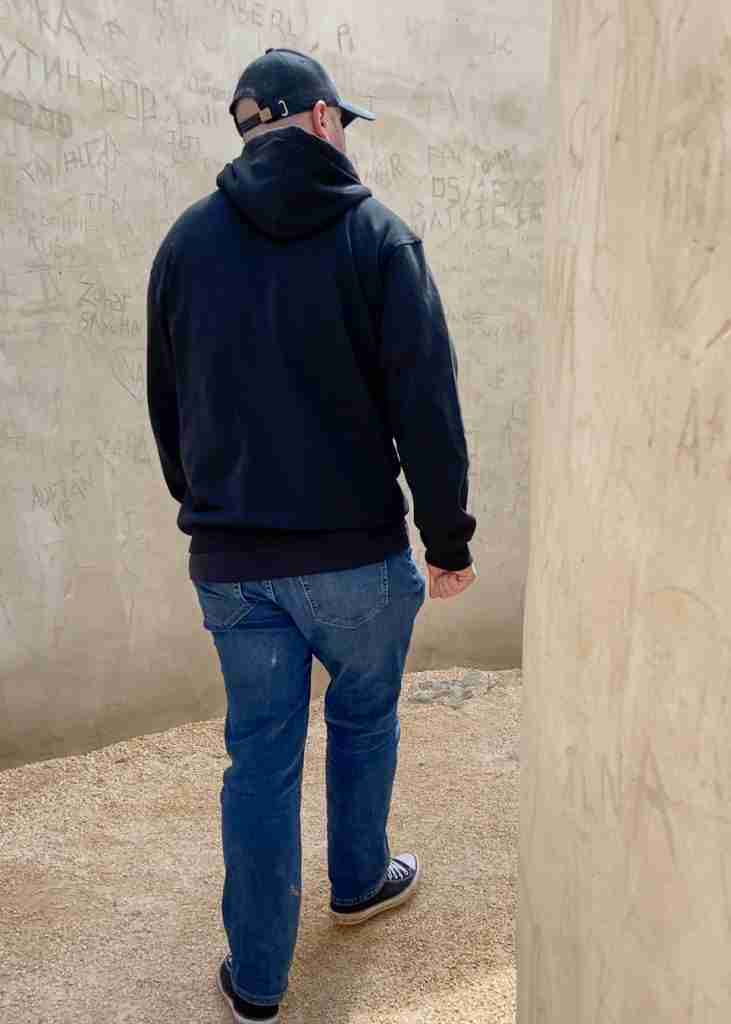 Unfortunately, the installation has been defaced with names and other writings. It's easy to quickly walk in and out of the chamber without fully understanding its purpose, and I witnessed many visitors do this.
But, I definitely recommend taking a seat to enjoy this unique experience in Sagres.
Once you exit Voz do Mar (the same way you entered), you will be facing toward the sea, and it is a beautiful sight!
---
Check out my Portugal travel videos!
---
Pin To Read Later
Do you have any questions on "voz do mar" or the chamber of sound in Sagres Portugal? Let me know in the comments.