Stand up paddleboarding is one of my favorite water sports, so when I had the chance to go on a Lagos SUP tour, I didn't hesitate to say yes!
This tour takes you paddleboarding along the stunning Algarve coastline to Ponta da Piedade.
You'll get to see hidden beaches, paddle under natural arches, and explore grottoes, which are only accessible by water.
If you're planning to go on a stand up paddleboarding tour in Lagos, here's what to know to prepare yourself and make the most of this adventurous experience.
PackedForPortugal.com contains affiliate links to various products, which means I may earn a small commission for qualifying purchases at no extra cost to you. Thank you for supporting my website. Read more about my Affiliate Disclosure.
Lagos Sup Tour: Here's What You Need To Know
1. You don't need any experience
If you want to go on a SUP tour in Lagos, you actually don't need any prior experience! Most people who take this tour are beginners, so don't let any fears or inexperience hold you back.
After booking your tour, you will most likely meet your tour guide at Praia da Dona Ana or Praia da Batata. You will get a quick lesson on the beach to learn everything you need to know before getting on the water.
Your guide will demonstrate how to get on your board, how to adjust your paddle to your height, and share other useful tips.
2. SUP at sunrise
One of the best times to go standup paddleboarding in Lagos is during sunrise! I prefer going early in the morning because it's less windy, which makes the sea much calmer. This means that you won't have to paddle through any waves!
At sunrise, you will get to see the golden sunlight set on the stunning sandstone cliffs and rock formations. Plus, it's way less busy at this time as most boats aren't on the water yet and many people in town are still asleep. This makes it so peaceful!
Tours last for three hours and most sunrise tours start at 6 a.m. during summer, and change with actual sunrise times.
The best part is that you'll feel accomplished for starting your day early and won't feel guilty if you go back to your place to take a little siesta.
3. Your chances of falling off your board are probably low…
Most people are scared to go paddle boarding because they don't want to fall off the board. But, a stand up paddleboards is big and tall as it's built to be stable on the water.
If you feel like your balance is off, you CAN paddle on your knees! Your instructor will show you how to do this.
But, even saying these things, there is always a chance you could fall off. The weather could change a bit and the winds can pick up on your way back to Lagos. This means that the water might not be as calm as it was in the morning.
During the group tours I've been on, I see 0-2 people fall off. And honestly, the weather is usually nice enough that it's quite refreshing. So embrace the sea if this happens to you!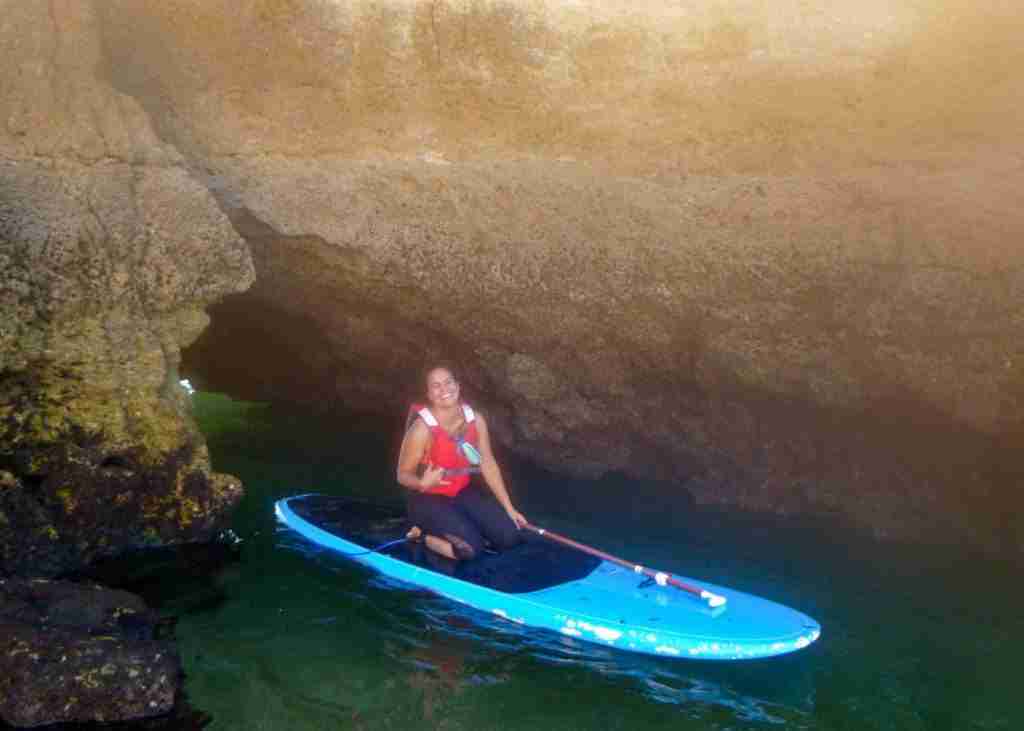 4. You get to explore Ponta da Piedade
Ponta da Piedade is one of the best places to visit in Lagos. When you go on a stand up paddleboarding tour from Lagos, you get to explore the area from a different perspective.
The coastline is rugged and absolutely stunning and it's actually one of the most famous coastlines in the world.
There are so many natural archways and when the tide is low enough you get to paddle underneath them! You also get to stop at some of the hidden beaches along the way.
5. Leave behind items you don't want to get wet
You will get fitted out with all the equipment you need for your SUP tour in Lagos, including a SUP board, paddle, leash, life jacket, and a wetsuit, if needed.
The only things you need to bring are a towel and a swimsuit, which you should put on before you arrive or get picked up. Oh, and don't forget to wear sunscreen.
I would also recommend bringing a bottle of water and your own GoPro camera if you want to take your own photos or videos. But, it's not necessary as they will provide you with some photos of you on the tour!
If you do want to carry some of your own things, I recommend picking up a waterproof dry bag to keep all of your personal items safe and dry.
Who should go on a SUP tour in Lagos?
A SUP tour is best for adults and children 12 years old and up. It's also best for people who have some swimming experience, but you will wear a life jacket!
👉 If you're excited to try it out, you can book your Lagos SUP tour here.
It's a good idea to book your tour in advance, especially during the summer months as it's peak tourist season and a lot of activities get booked out.
If you want to book in town, you can find all of the SUP and kayak tour companies right in front of Praia do Cais da Solária. If you're experienced and don't want to go on a guided tour, these companies also offer rentals.
Be flexible
One of the top reasons why your tour may be canceled or changed is due to the weather. The Algarve coast can become very windy and this makes paddle boarding very difficult.
---
Check out my Portugal travel videos!
---
Pin To Read Later
Do you have any questions on standup paddleboarding tours in Lagos Portugal? Let me know in the comments.