Praia da Luz is a small seaside village that can be found in the Algarve. I actually lived in Luz for an entire summer while I worked at a local surf lodge. It's a great place to stay if you're looking for a relaxed and low-key vacation or want to escape the overwhelming Lagos nightlife.
Luz is a 10-minute drive from Lagos, and it's only an hour drive from the Faro airport, so it really is worth a visit if you're traveling around the Algarve.
Whether you want to enjoy a quiet beach or hike along the beautiful coast, here are the best things to do in Praia da Luz, Portugal.
PackedForPortugal.com contains affiliate links to various products, which means I may earn a small commission for qualifying purchases at no extra cost to you. Thank you for supporting my website. Read more about my Affiliate Disclosure.
Top Things to do in Praia da Luz, Portugal
1. Praia da Luz
Praia da Luz is the main beach in Luz. It's a beautiful white-sand beach, which is perfect for sunbathing. You can also lay on some of the rocks. The beach has plenty of toys to hire, including inflatables, SUPs, and kayaks. You can also rent chairs and umbrellas if you're looking for some shade. Since the beach is very exposed, it can become unbearable to lay on the beach when the wind is blowing sand at you. You've been warned!
2. Hike to Burgau
Burgau is a small village to the west of Praia da Luz. The hike from Praia da Luz to Burgau is about 3 miles long and it will take you a little over an hour. The trail follows the beautiful coastline and has many picturesque views of the sea along the way. There are plenty of restaurants in Burgau where you can enjoy lunch or a beer. You can either walk the same way back or take the local bus.
3. Panoramic View
On the east side of this village, you can hike your way up to an incredible panoramic view of Praia da Luz and surrounding areas of the Algarve. It takes about 25 minutes to reach the top of what's known as Rocha Negra or Black Rock. This is also a great spot to watch the sunset! Don't forget a bring a bottle of Portuguese wine and a blanket.
4. Praia de Porto Mós
After hiking to the top of the cliffs, you can continue hiking along what's known as the Fisherman's Trail, which actually goes all the way to Lagos. About halfway along the trail, you will find Praia de Porto Mós. This beach is beautiful and the views from the cliffs are incredible. This trail is also super popular with mountain bikers. If you continue hiking to Lagos, you will pass by Praia do Canavial and Ponte de Piedade.
5. Watch the Sunset
I can't even tell you how many incredible sunsets I've witnessed in Praia da Luz. The colors of the sunset are always dramatic with reds, oranges, and purples that paint the sky. You can view the sunset in a few different locations around the village: the top of the cliffs, the hill, or from your villa window.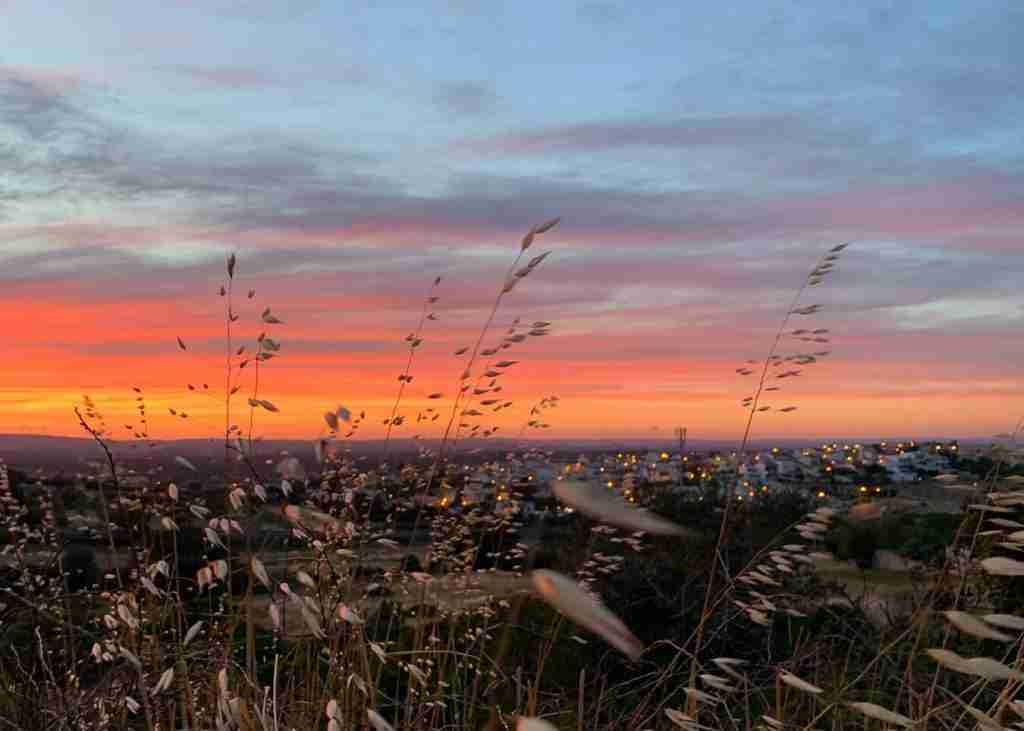 6. Eat Local Food
Portuguese food is made up of incredible seafood. There are many local restaurants to try the local fish of the day, which is usually a sea bream, sea bass, or sardines. Most meals are served with fries and a salad. Prawns, mussels, clams, and octopus are a few other things you will commonly see on local menu.
7. Go Surfing
Praia da Luz offers some great surfing and it's full of surf lodges. Many people surf at the nearby Praia de Porto Mós. If you want to spend a week learning how to surf, improving your surfing, or just hanging out with a bunch of fun people who surf, I recommend staying at a surf lodge! During the summer, they'll drive you out to some awesome surf spots on the west coast!
8. Ice Cream Factory
I love ice cream and there's an incredible ice cream shop in town that you have to try! It's called the Ice Cream Factory and it's located directly across the church. It has a good selection of handmade ice cream to choose from. I tried a fun flavor called Magic Unicorn, which was delicious. After you buy a cone or cup of ice cream, walk down to the gazebo to enjoy your ice cream with a view of the sea.
9. Try SUP Yoga
SUP yoga is great exercise to help you increase your core strength and build your balance, which is great for surfers! Group classes usually last an hour and take place in a pool or off the shores of Luz beach. This is a great way to start your day and you don't need any prior experience. Don't forget to wear sunscreen!
10. Grab a Cocktail
The nightlife in Luz is a lot more chill than what you'll experience in the neighboring town of Lagos. I enjoyed spending many evenings enjoying the cocktails at Ollie's Bar. One of my friends used to work there and made the most delicious Espresso Martini with Bailey's… drooling. I also really like the passion fruit martini!
---
Answering Your Questions
Is Praia da Luz worth visiting?
Praia da Luz is a great place to stay if you're looking for a quieter vacation, but still want to be close enough to busy Lagos.
Praia da Luz was originally a fishing village, but today it is a small resort town. It has a great beach, bars, food, and surfing.
How far is Praia da Luz from airport?
The closest airport to Praia da Luz is Faro Airport, which is about an hour drive away.
---
Check out my Portugal travel videos!
---
Pin To Read Later
Do you have any questions on things to do in Praia da Luz Portugal? Let me know in the comments.