Óbidos, Portugal is a charming medieval town that is surrounding by a castle wall that you can actually walk on! It's charm comes from the pretty traditional whitewashed houses covered with beautiful flowers that can be found inside of the castle walls.
The town is picturesque and full of plenty of landmarks, old churches, libraries, and a street full of shops and restaurants.
Since the town is small, you can easily visit Obidos in a single day. If you like pretty towns and exploring old fortresses then I recommend taking a day trip to Obidos, Portugal!
PackedForPortugal.com contains affiliate links to various products, which means I may earn a small commission for qualifying purchases at no extra cost to you. Thank you for supporting my website. Read more about my Affiliate Disclosure.
Obidos, Portugal: Things to Know
Óbidos means "walled city"
The town was reconstructed and embellished in 1148
Declared a UNESCO City of Literature in 2015
How to Get to Obidos From Lisbon
Óbidos is located 85km north of Lisbon in what's known as the Oeste Region. You can easily travel here by bus from Campo Grande in Lisbon to Óbidos Rua Da Praça. Check Rodoviária do Oeste for tickets.
How to Get to Obidos From Peniche
We traveled to Obidos on a day trip from Peniche since it's only 30 minutes away. We took a bus from Terminal Rodoviário de Peniche, which is also where we purchased tickets.
How to get inside the walled town of Óbidos
The main gateway into the medieval walled town of Obidos is through the Porta da Villa, which is found off of Rua Josefa de Óbidos.
As you walk through the entrance portal, you can admire the Baroque-style church and 14th century structure that's been decorated with blue and white Portuguese tiles.
Best Things To Do in Óbidos
1. Walk along Obidos Castle walls
Obidos is surrounded by the walls of Óbidos Castle. Once you enter the town, you can climb a set of stairs to reach a walkable route along the fortified walls. Walking the castle walls is definitely a highlight, but keep in mind there are no railings. So, watch your step because the walls are about 13 m tall and make up a length of about 1.5 km.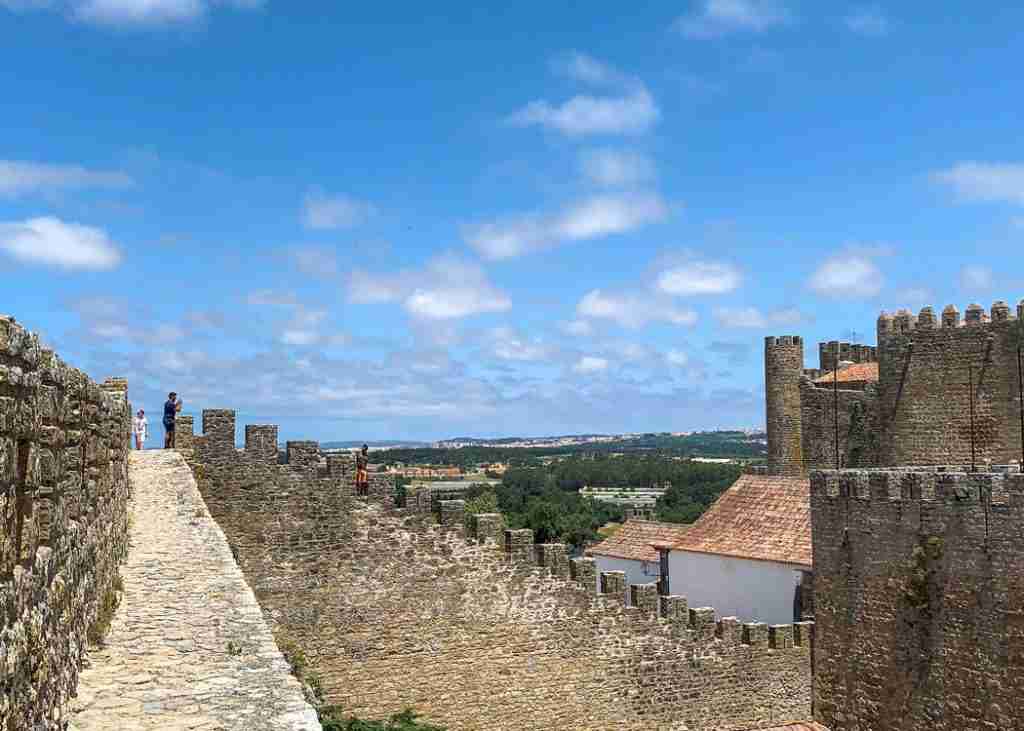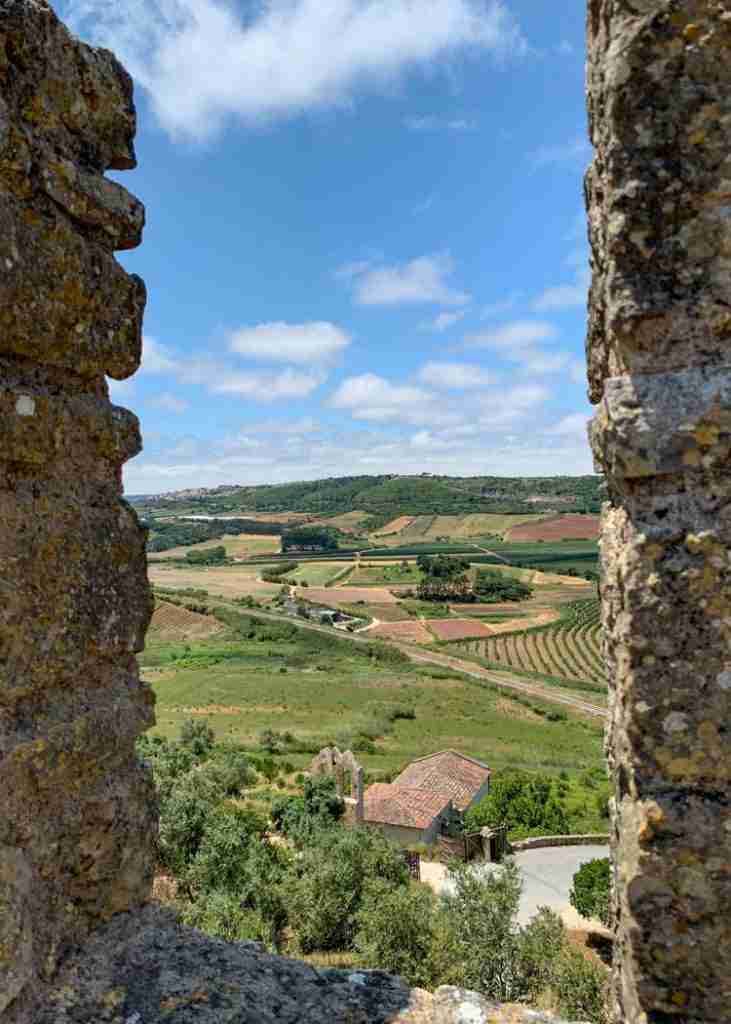 2. Panoramic views from above
While walking along the castle walls, enjoy the many panoramic views of Obidos below as well as the beautiful vineyards, homes, and farm land that surround the village. You'll discover so many incredible viewpoints while you walk along the castle walls.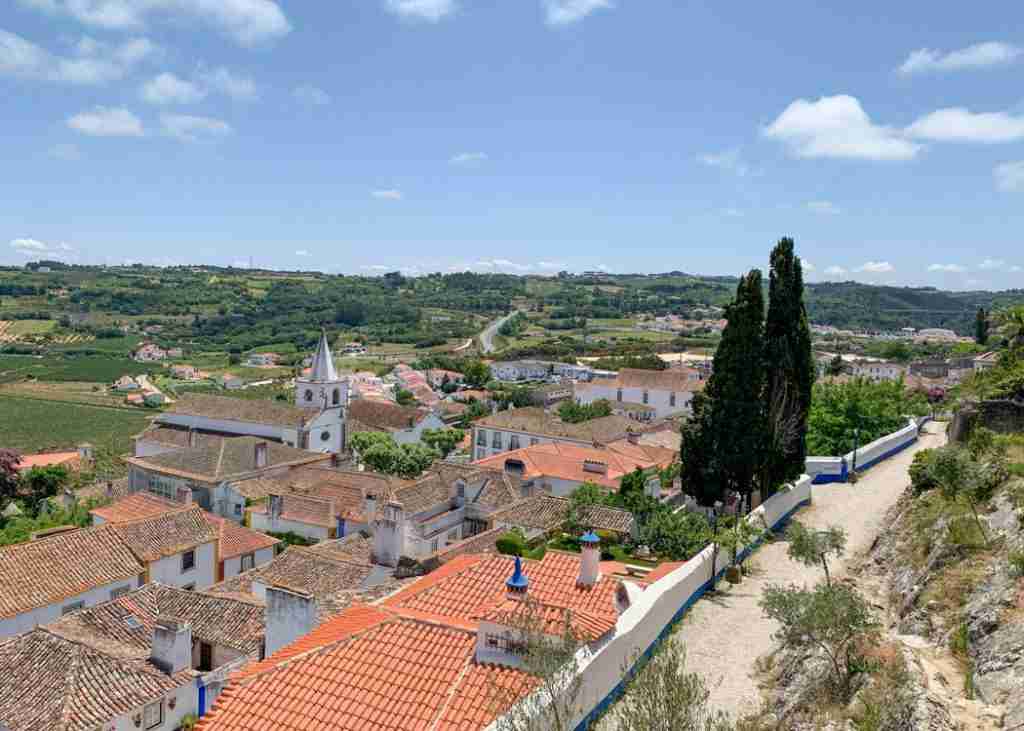 3. See Óbidos Castle up close
After walking along the castle walls and seeing Obidos village from above, you can visit Castelo de Óbidos up close. The castle was transformed into a luxury hotel called Pousada deo Castelo de Óbidos in 1932, so you can only visit certain areas like the courtyard.
4. Visit a bookstore inside of a church
Livraria de Santiago is a bookstore set inside of an old church. It's so pretty and it has a wide selection of books. Obidos actually became a UNESCO "City of Literature" in 2015. Today, there are more than 14 bookstores in this small village!
5. Stop by a sardine shop
As you wall along Rua Direita, the main road in Obidos, you will come across a sardine shop called Comur. The shop looks like a library and it's stocked with tins of sardines. If you want to try traditional tinned sardines, this is the place to go. It's also just a fun and colorful shop to photograph.
6. Explore the cobbled streets and alleys
The entire town of Obidos is so picturesque, it's basically a photographer's dream. Follow the cobble streets and explore the alleys to find all of the flower-covered walls on the homes and buildings in town. Every wall is a backdrop and there's always a lovely surprise around every corner!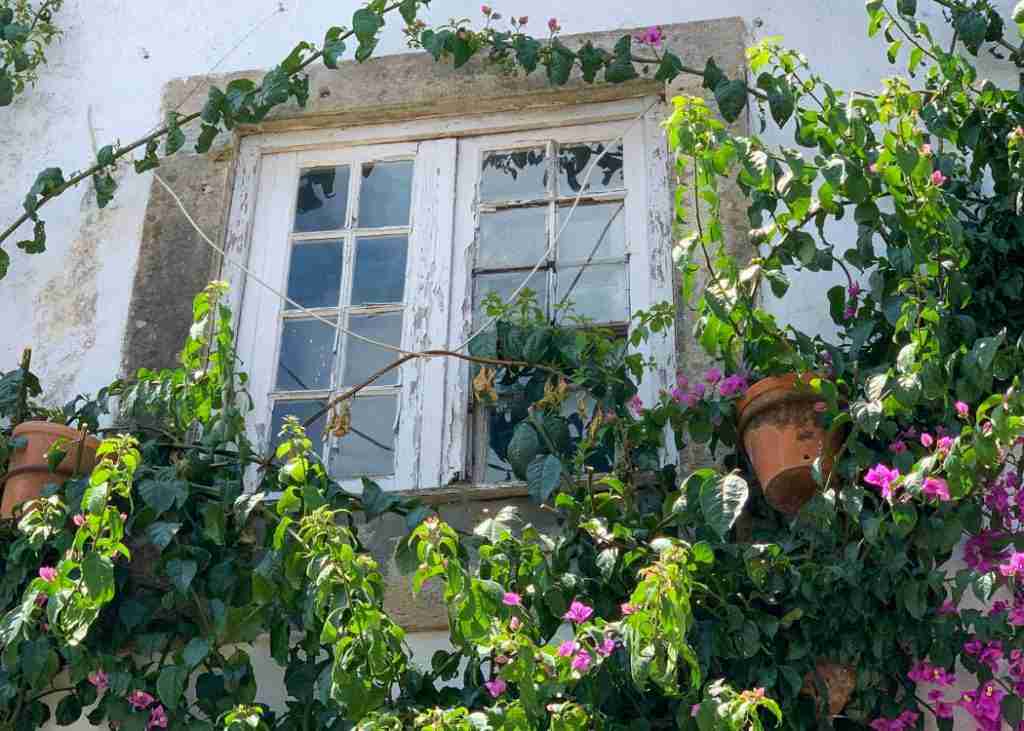 7. Church of Santa Maria
The main church in town is Igreja de Santa Maria or Church of Santa Maria, which was founded between 1148 and 1185. Inside the church you'll find beautiful azulejo tile work. If you want to see other churches within the village, visit the medieval Church of Saint Peter, Sao Tiago Church, Igreja de Sao Pedro, Capela de Sao Martinho, and Igreja de Sao Joao Baptista.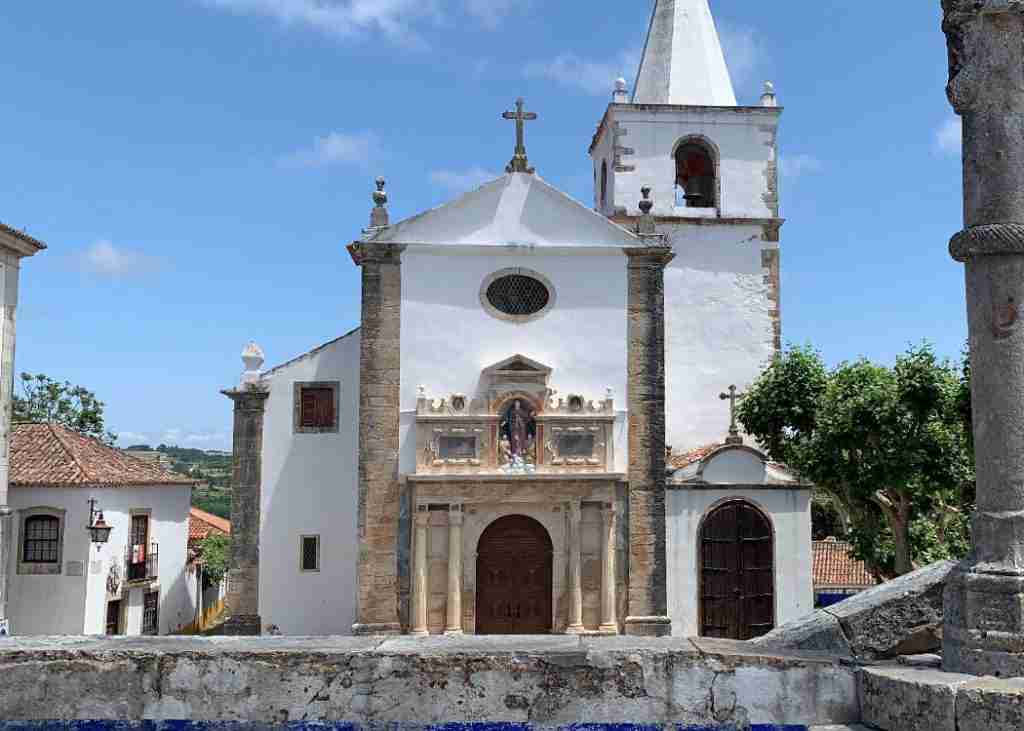 8. Take a shot of Ginjinha
The Obidos region is famed for its cherry liqueur called Ginjinha d'Obidos or Ginja. The liqueur is a famous local drink that originated in the 18th century. It's made from sour cherries, alcohol, sugar, and cinnamon, and is often served in an edible chocolate cup. If you want to try Ginja, stop by one of the many small window bars along Rua Direita.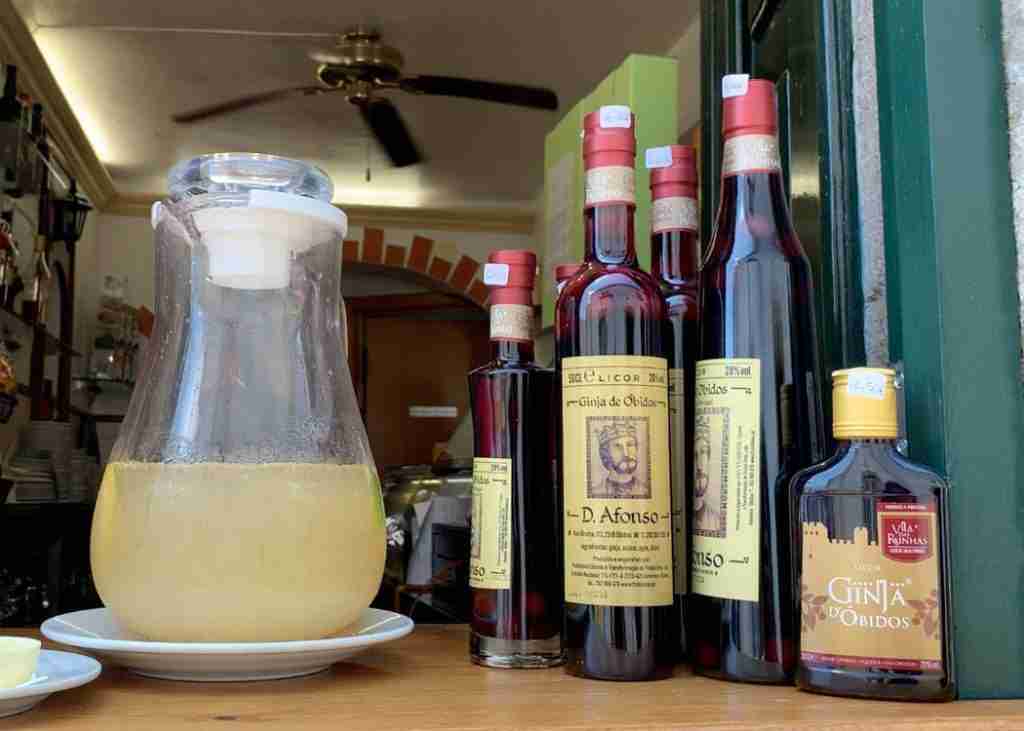 9. Obidos Aqueduct
The Óbidos Aqueduct was built around 1570. It can be found outside of the fortified walls and it's still completely intact. If you drive to Obidos, this will be one of the first things you see as it passed through the main parking lot.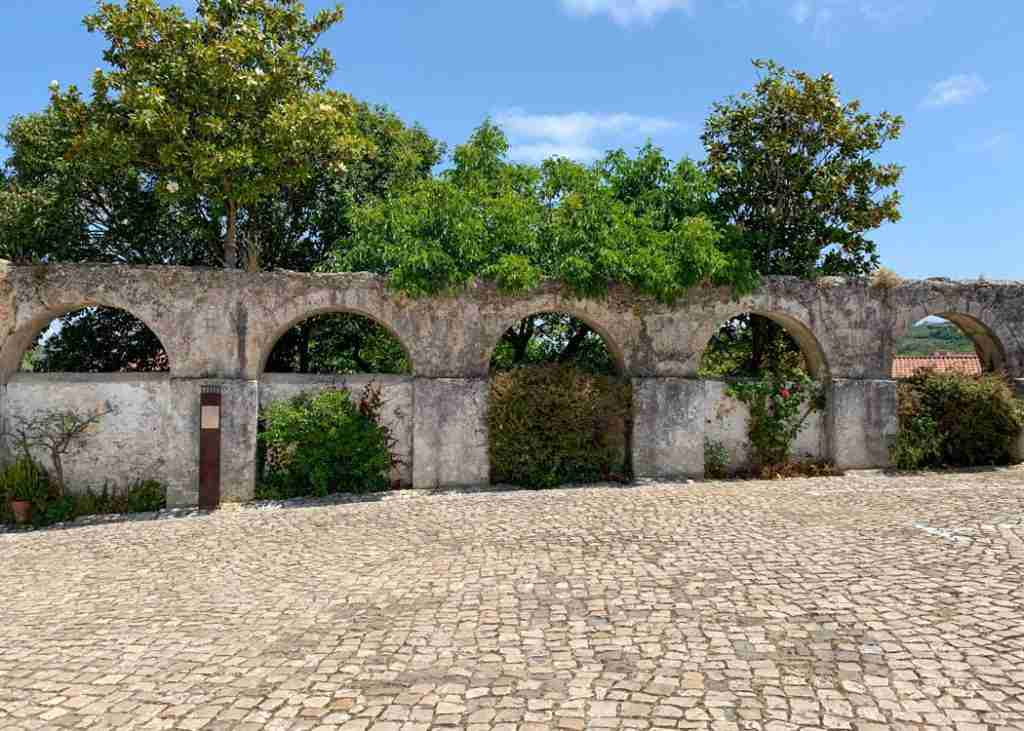 Other things to do in Obidos Portugal
There are plenty of other things to do in Obidos outside of what I've already listed. In July, you can experience a traditional Medieval Market. The town also hosts an International Chocolate Festival in March. Visit the small Museu Municipal de Obidos, eat at a local bakery or try to find the romantic swing called a baloiço in Portuguese. If you need some beach time, head to Lagoa de Obidos.
---
Answering Your Questions
Is Obidos worth visiting?
Óbidos Portugal is worth a visit if you want to discover a charming medieval town in Portugal. It's cobbled streets, old churches, and flowered walls are a photographer's dream.
---
Check out my Portugal travel videos!
---
Pin To Read Later
Do you have any questions about visiting Obidos Portugal? Let me know in the comments.